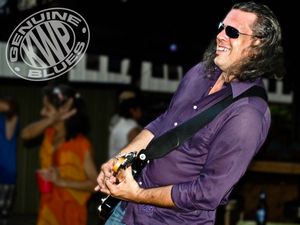 "An impressive musical journey; 'Lost in Mississippi' will take you from the heart of Tupelo into the back roads of Mississippi and beyond."
"
The song 'Lost In Mississippi' will get your blood pumping with its blues riff and cool slide work by Kevin. Lyrically it's a hazy trip from Tupelo through the famous Crossroads. Other highlights include the love gone bad blistering slow blues of 'Gone Bad Blues' and the eight minute plus blues rocker 'Gone.'"
"With blues musicians like Kevin, the blues will keep it's tradition long into the future."
- Bill Upex (Mr. Scratch), London Blues Radio
Kevin Waide is a blues singer-songwriter and guitarist from Tupelo, Mississippi, and has played all over the state of Mississippi and into Tennessee and Alabama. Kevin has shared the stage with 
names such as Cedric, Duwayne, and Garry Burnside, Lightnin' Malcolm, Richard Johnston, and Eden Brent. His own band, the Kevin Waide Project, boasts such talent as Chris Fooshee on drums, Blake Miller on bass, with everyone sharing vocal duties as those in attendance dictate.

The main focus of the Project is their original material, but requests are taken, and nothing is taboo when it comes to these guys. "Everyone in the band comes from a completely different place, musically," says Kevin, "and that brings a wealth of potential cover material, especially when someone screams a song name from the back of the room! If anyone on the stage knows enough of the song to drag us all through it, then we're gonna do it. We're there to play what they want to hear." A typical night with the Project can go from funk to country to rock to folk and back, but the undercurrent is always tied to the music of their home, the Mississippi Blues.
In November 2010, Kevin was featured in the
Tupelo Daily Journal's "The Scene"
section and in the documentary film "The Gum Tree Chronicles, Part 2", and in 2012, had three songs placed on the soundtrack to the movie "Fish Story: The Curse Of Mocatawbi Pond" ("Meet Me By the Back Door," "Gone Bad Blues," and "Ain't Got You," all from the album "
Lost In Mississippi
"). The Kevin Waide Project's new album, "
Booze, Bluez, & BBQ: Live In Tupelo
," was released worldwide on August 13, 2013, and contains the new single, "Call My Name." The album, featuring Chris "The Immortal SuperFoosh" Fooshee on drums and debuting newcomer Blake Miller on bass, with a special appearance by "The Emfamus" Skip Oliver on harp, winds down the blues highway with brand new songs as well as your favorites from the debut album "Lost In Mississippi."